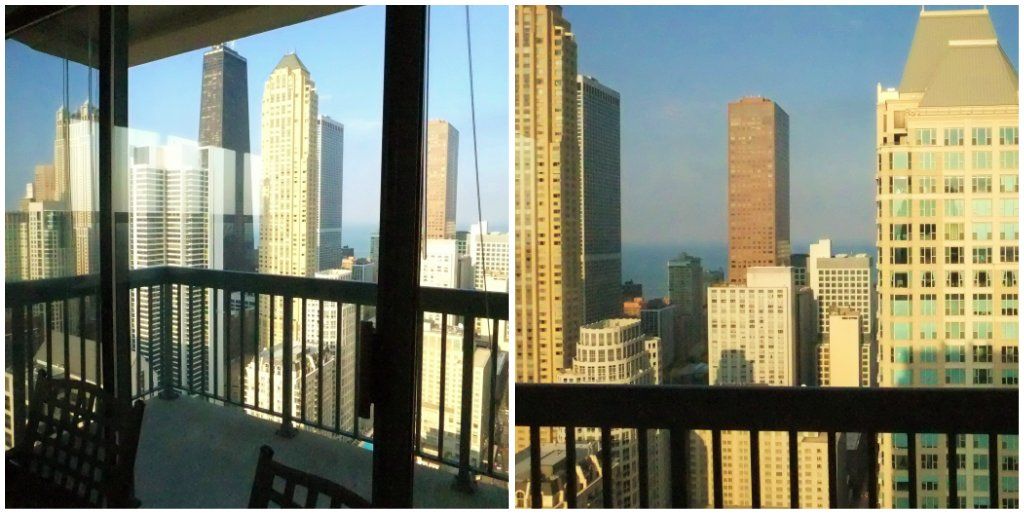 Last week on a beautiful September evening my friends and I headed into the city to attend a private cooking class with
Pamela Sheldon Johns
, well known cooking instructor and author of 16 cookbooks. We couldn't ask for better weather, the sky was bright blue and the views of the city were absolutely gorgeous from the 52nd floor condo we were in.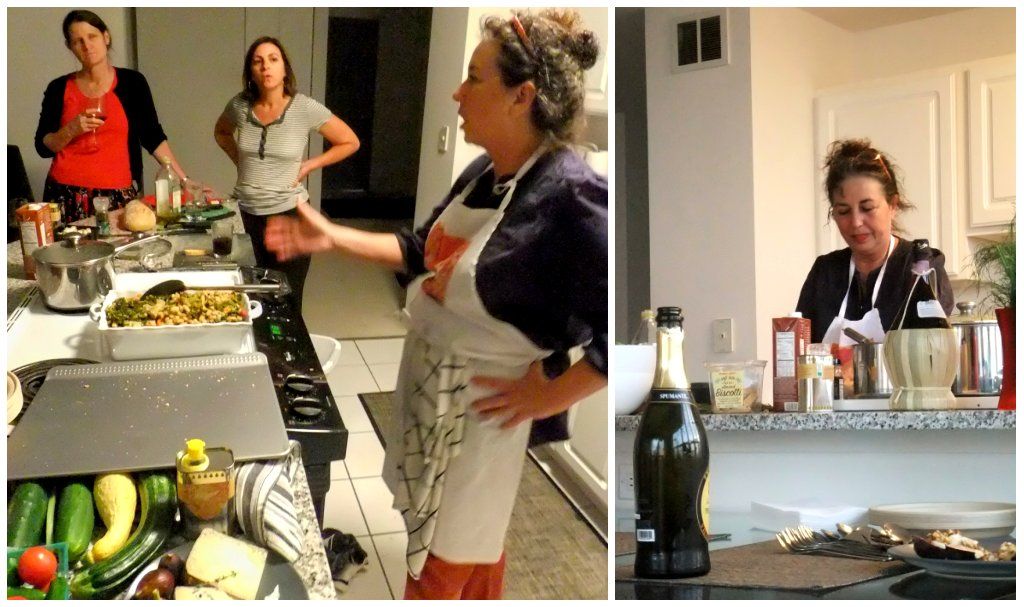 It was a small intimate group of ten
lively
women and Pamela made us all feel welcome the minute we arrived, popping open bottles of Prosecco as we were getting to know each other.
Our menu for the night was coming straight out of Pamela's new cookbook, Cucina Povera: Tuscan Peasant Cooking. Simple and delicious food born from hard times when nothing was ever wasted and leftovers were recreated over again.


In the beginning of the book you'll read a collection of stories from neighbors and locals that Pamela interviewed throughout her 20 years living in Tuscany, those who have experienced first hand the "poor kitchen" before, during, and just after World War II. The book has more than 60 dishes that bring to life the
Cucina Povera
philosophy focusing on making great food out of very little using simple quality ingredients.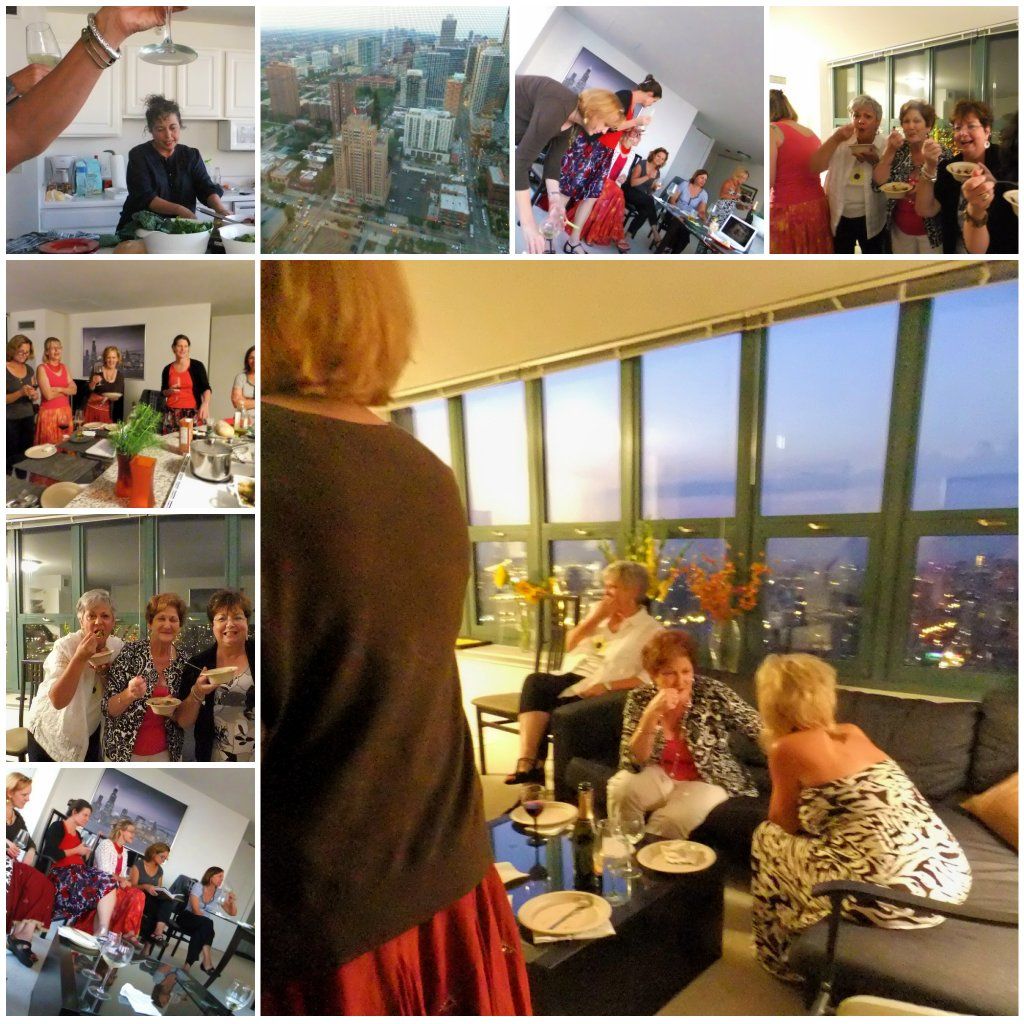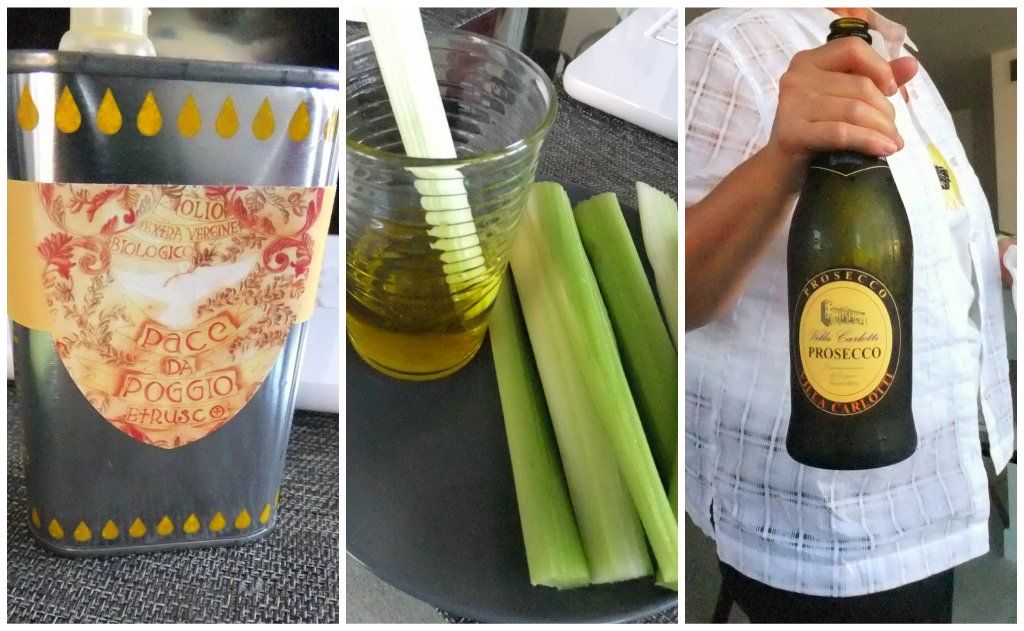 Our first appetizer was
Pinzimonio
, quite simply, vegetables dipped in seasoned olive oil fresh pressed straight from Pamela's Tuscan farm.
Next up was
Frittura Mista di Verdure
, fried flowers and vegetables. A batter is made from flour, eggs and prosecco, the vegetables are then dipped and fried, sort of like tempura, light and crispy. The favorite among all was the fried sage leaves!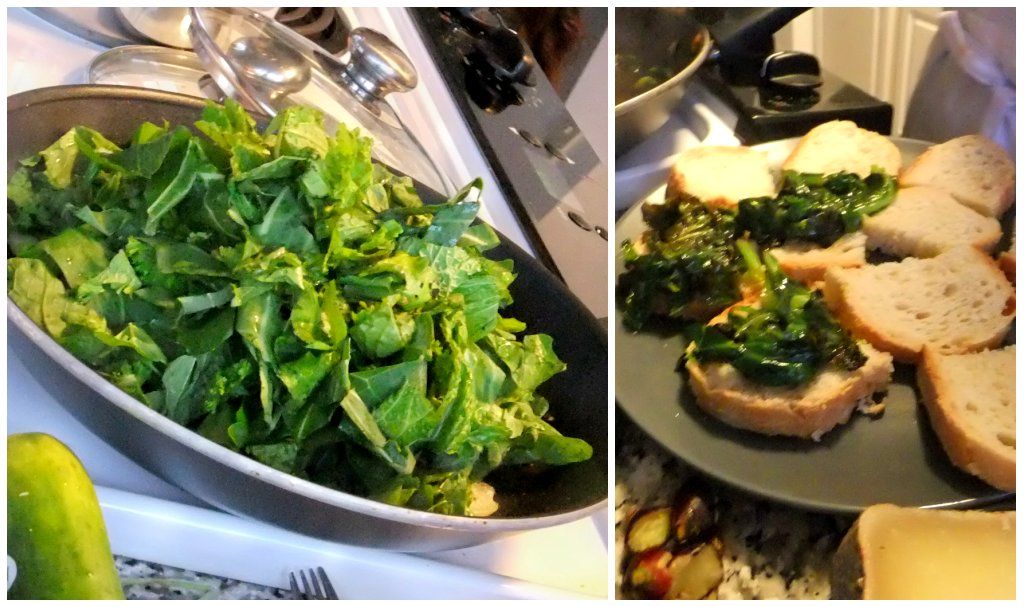 Another favorite was
Pan' Santo
or holy bread, a crostini topped with sauteed mixed greens "anointed" with olive oil.
Ribollita
, a classic Tuscan vegetable-bread soup made with beans, greens, an assortment of vegetables, herbs and day old bread.
Ribollita
was a dish were the leftovers got extended and recreated into other dishes, for instance,
day 1
, it was a vegetable soup,
day 2
, a bread soup,
day 3
, a baked bread soup, and finally on
day 4
, it became a recooked vegetable stew.
This is a hearty dish especially when the bread is layered in between, it will fill your stomach in no time, a little goes along way!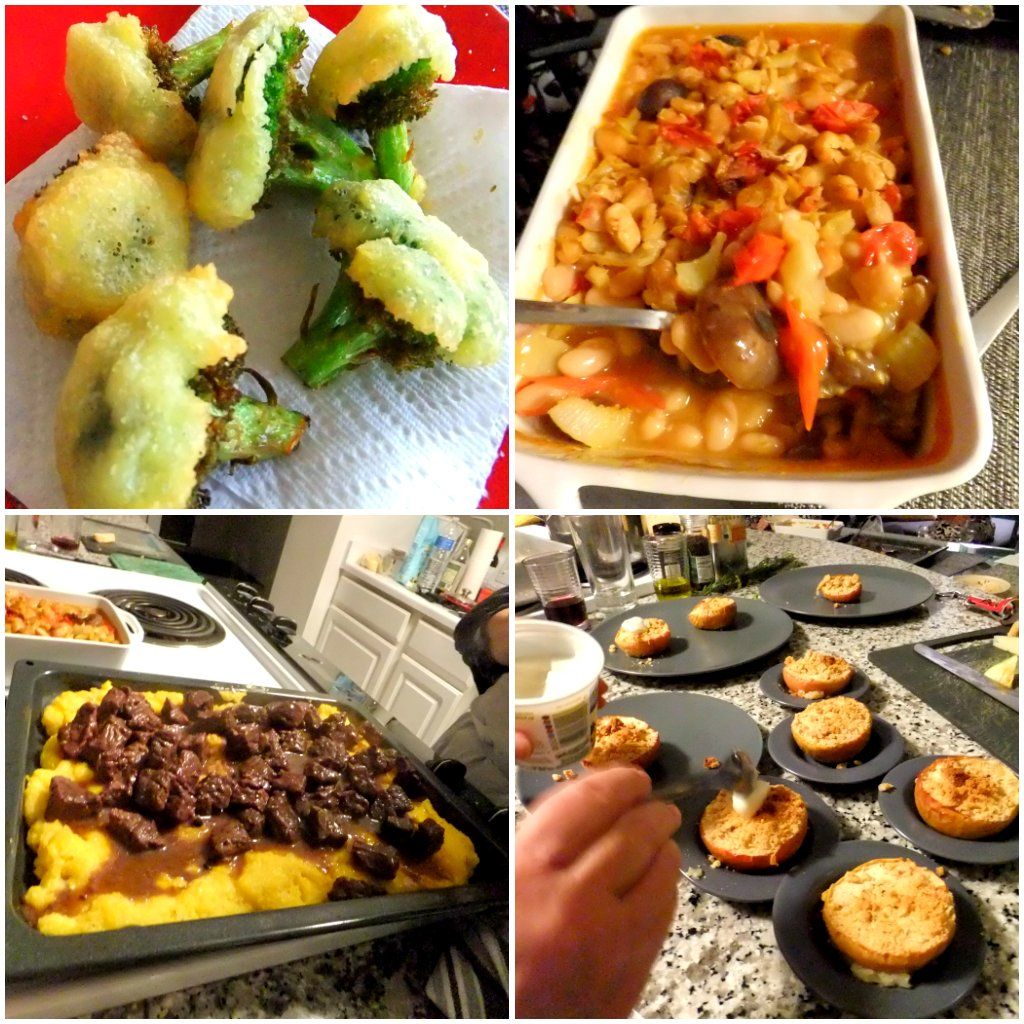 Other dishes Pamela made were
Stewed Beef
braised with a hearty red wine served over
Polenta
,
Roasted Tomatoes with Beans and Onions
, and for dessert, warm
Baked Apples
. This is humble comfort food at it's finest!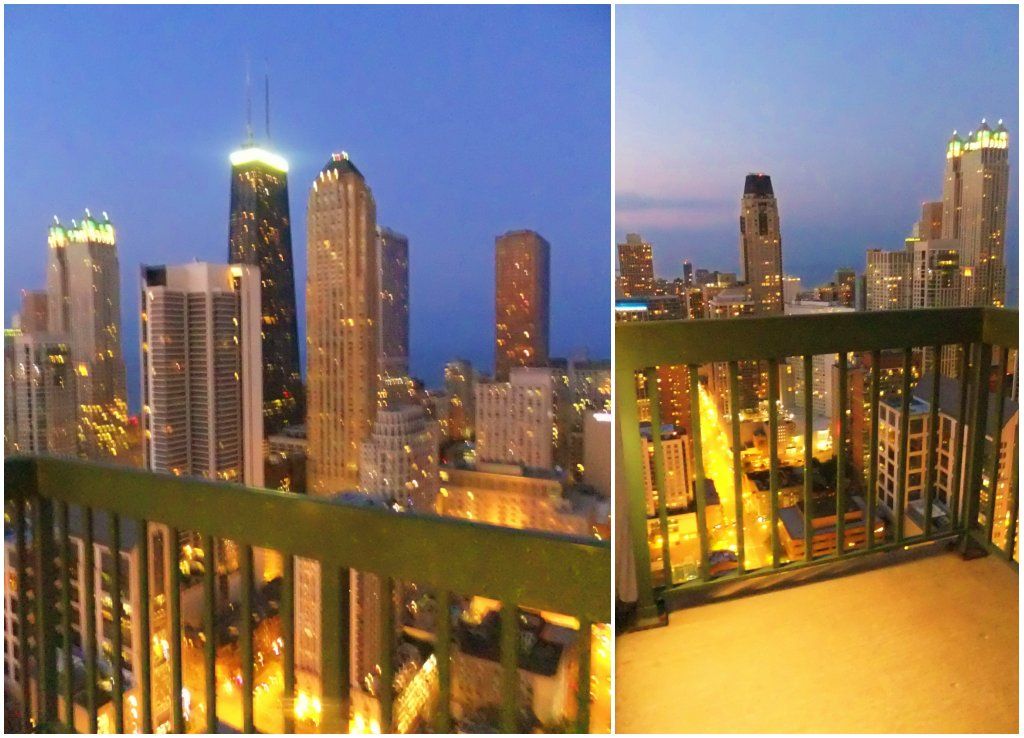 As night fell the city glowed with all the lights, from our balcony we could even see the fireworks coming from Navy Pier. Beautiful, but a little scary if you don't like heights! ( I stayed close to the door).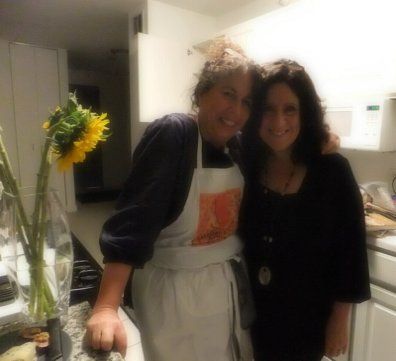 Thank you Pamela for a very memorable night. I felt like I was invited over to a friends house for dinner.
The next day I was invited to a blogger event for
Cucina Povera
taken place at the beautiful and huge Whole Foods in Schaumburg, Il. What a great space they have for cooking demos and classes.
Of course Pamela was again behind the stove cooking up her
Farmyard Crostini
, a big pot of
Farro Soup
and a
Panzanella Salad
with
Baked Figs
for dessert. I need to stop eating for a week... I'll start tomarrow!
Cucina Povera
will be released on Sept 13, but I have a signed copy ready to be shipped out to one of my readers, just leave a comment on my blog from now until Thursday midnight and I will announce the winner on Friday, Sept 9th.
Buon Appetito!